$5.99
AUD
Category: Activity
Have fun with Bluey and Bingo and their friends. There are loads of games to play, stickers to place and much more! A fun-filled sticker activity book for kids of all ages. Bluey has been a phenomenal success since airing on ABC KIDS in October 2018, amassing legions of dedicated fans and hugely popular ranges of books, toys, clothes, games and more. It holds the coveted position of being the most watched program ever on ABC iView, with over 260 million plays for Series One, and is the winner of an International Emmy for Most Outstanding Children's Programme.   ...Show more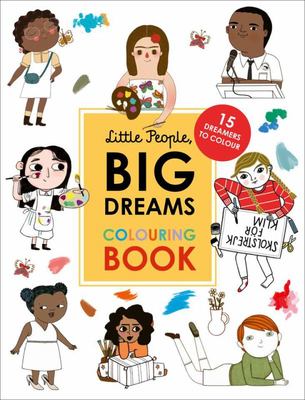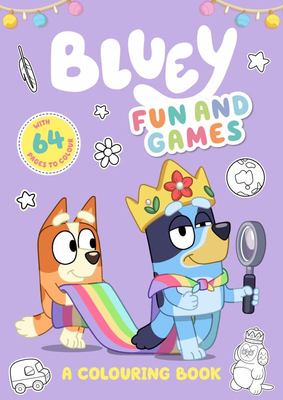 $5.99
AUD
Category: Activity
Colour in the grannies, a game of Featherwand, a trip to Rug Island and more in this fun-filled colouring book. Bluey has been a phenomenal success since airing on ABC KIDS in October 2018, amassing legions of dedicated fans and hugely popular ranges of books, toys, clothes, games and more. It holds the coveted position of being the most watched program ever on ABC iView, with over 260 million plays for Series One, and is the winner of an International Emmy for Most Outstanding Children's Programme. ...Show more

$12.99
AUD
Category: Activity
Who is ready for some MIGHTY Activity Fun? The Mighty Mactivity Pad is full of colouring, activities and stickers in a large, kid-friendly format.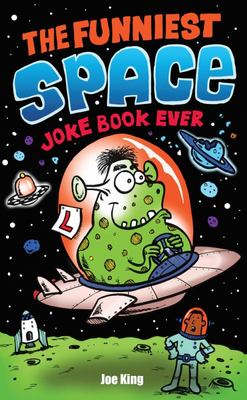 $12.99
AUD
Category: Activity
Why did the sun go to school? To get brighter! Why did the cow go to outer space? To visit the Milky Way! How do you get a baby astronaut to sleep? You rocket! Why did the alien knit itself three socks? Because it grew another foot! Kids will be over the moon with this collection of fantastically fu nny space jokes! ...Show more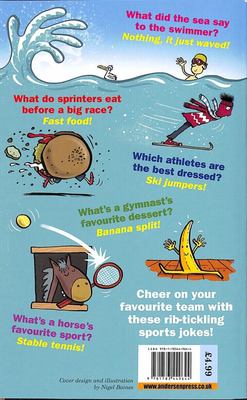 $13.00
AUD
Category: Activity
What lights up a stadium? A match! Which athletes are the warmest? Long jumpers! How do footballers stay cool? They play close to the fans!Kids will fall over laughing at these sporty jokes, perfect for celebrating the Olympics!
$6.99
AUD
Category: Activity | Series: Macca
Join Macca and his friends for hours of colouring and activity fun! Can you solve the mazes and spot all the differences?
$14.99
AUD
Category: Activity
Rediscover coloring with this pocket edition of Johanna Basford's multi-million bestseller Secret Garden. Take a ramble through a secret garden created in beautifully detailed pen-and-ink illustrations. Bring them to life with color, while discovering the wealth of tiny creatures just waiting to be foun d in the pages. With gorgeous artworks, this book will appeal to all ages. ...Show more
$65.00
AUD
Category: Activity
Celebrate the holidays at Hogwarts with this interactive pop-up book.   Harry Potter: A Hogwarts Christmas Pop-Up is a one-of-a-kind book that re-creates the iconic Great Hall as seen in the Harry Potter films, complete with a pop-up Christmas tree at the center. The book is also filled with removable and displayable keepsakes of iconic magical artifacts and other elements from the films, which can be used as ornaments to decorate the pop-up tree, creating an interactive experience that lets fans bring the holidays to life in their own magical way.   Included is a softcover booklet packed with behind-the-scenes details on the props, set designs, and special holiday moments featured throughout the films. Recapture the holiday memories from the Harry Potterseries, or create your own, as you celebrate the holidays with this must-have collectible for fans of the Wizarding World. ...Show more
$14.99
AUD
Category: Activity | Series: Search and Find Activity
A brand new search-and-find adventure, from the publishers of the 2017 bestselling title Where's the Unicorn? Follow the further adventures of a colourful blessing of globetrotting unicorns. This time, the unicorns are embarking on a magical tour through the wild world of Wonderland. Spot the blessing i n an enchanted forest, search for them on board a sky ship and find them in a mysterious crystal cave. There are 17 intricately illustrated fantasy scenes to search - each one filled with crowds of magical creatures, characters and animals - and seven sensational unicorns to spot in every location.   ...Show more
$14.99
AUD
Category: Activity | Series: Paper Planes | Reading Level: Children's - Grade 3-4, Age 8-9
Includes coverage that ranges from fighter planes to robots, dragons and sharks. This title features instructions on how to fold and throw the planes.