$44.99
AUD
Category: Non-Fiction
All aboard Guinness World Records 2021 for a life-changing journey of discovery! This year, we're devoting a chapter to the history of exploration, starting with the story of the very first circumnavigation, along with our "History of Adventure" timeline, featuring a host of remarkable achievements. The fully revised and updated best-seller is packed with thousands of incredible new feats across the widest spectrum of topics, providing a whistle-stop tour of our superlative universe. Our ever-expanding pool of international consultants and experts help us make sense of the world around us and the cosmos beyond. So join us as we embark on a voyage through the vast panorama of record-breaking in 12 fact-packed chapters: - Travel through the Solar System and see the planets come to life with a free augmented-reality feature- Encounter the cutest, weirdest, most dangerous and exotic creatures on our home planet- Meet the world's tallest, shortest, hairiest and heaviest humans- Marvel at the latest high scores, speed runs and players at the top of their game in eSports and beyond- Get the lowdown on the world's most successful and prolific actors, musicians, TV stars and influencers- Review the greatest sports achievements from the past year and celebrate today's top athletes We've also selected the best of the newly approved claims from the 50,000 applications received from the public over the past 12 months. But don't just be a tourist: try some of our specially created try-at-home challenges that could see YOU listed in the world-famous book of records. If you want to be one of those lucky few, check out our Against the Clock chapter - we might even see you in next year's edition!   ...Show more
$24.95
AUD
Category: Non-Fiction
A beautifully illustrated story of this marsupial's plight and how it was saved from extinction. The Eastern Barred Bandicoot is one of Australia's most threatened species. When their existence came under extreme threat from habitat loss, predators and human development, Eastern Barred Bandicoots found refuge in the most unlikely of places - a garbage dump. This captivating true story details the plight these small, nocturnal marsupials faced, and the outstanding efforts that ensured their protection. Written by Rohan Cleave and illustrated by Coral Tulloch, Bouncing Back shows that even on the brink of extinction, there is hope for the survival of our most vulnerable species. Rohan Cleave and Coral Tulloch's first book, Phasmid: Saving the Lord Howe Island Stick Insect, won a Whitley Award for Children's Natural History Book and was an Honour Book in the Children's Book Council of Australia Book Awards (Eve Pownall Information Book category). ...Show more
$34.99
AUD
Category: Non-Fiction | Series: Explore Your World
Get ready for a whole new look at the world around you.  You're about to meet the weirdest, wildest and most amazing animals on the planet.   Are zombie jellyfish real?  Do frogs like opera? Which animals eat poop? (And more importantly, WHY?!) What's it like to wrestle a python?   Buckle up - you're ab out to find out! Bursting with bizarre facts, packed with vibrant illustrations and guided by one of the world's greatest living scientists, Professor Tim Flannery, this deep-dive into the natural world will enthral and enlighten readers. It will also make them laugh out loud ... and squirm in disgust.   ...Show more
$19.99
AUD
Category: Non-Fiction
Spend a day with Australia's most vibrant and unique feathered friends. Full of splashing shorebirds, clattering cockatoos, parading penguins and greedy galahs, Busy Beaks is the perfect introduction to birds of all shapes and sizes.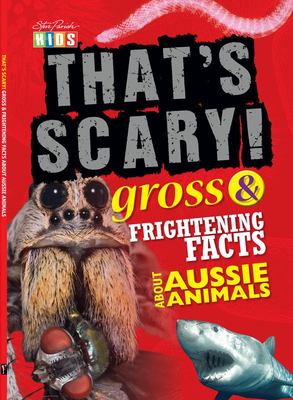 $9.95
AUD
Category: Non-Fiction
Have you ever heard of man-eating snakes? No? What about crazed kille r birds? This book is only for the brave at heart! You will shake i n your shoes and yell 'That's Scary!' with each truly terrifying fact about Aussie animals. Features: Scar y and fascinating facts about each animal Vibrant and enga ging layout Glossary with definitions of challenging words About this series: Fans of the highly success ful That's Gross! Weird & Disgusting Aussie Animals book will find much more to squirm at with squeamish delight in this new stomach-churning series written by Stella Tarakson. Featuring everything from offensive odours to prehistoric puke, these feral facts are not for the faint-hearted! Combining natural history, science and a sense of humour, these books are sure to keep kids entertained while the y learn. ...Show more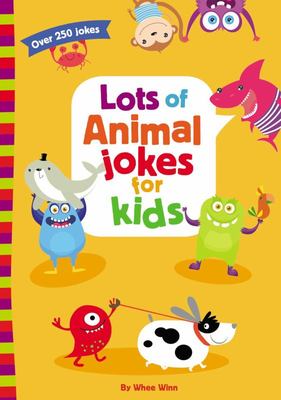 $9.99
AUD
Category: Non-Fiction
Get ready to laugh like a hyena with more than 250 knock-knock jokes, Q&A jokes, riddles, and tongue twisters about wildlife, zoos, pets, and the animals that creep, crawl, bark, and meow in your own backyard. It's great, on-the-go size means you can take Lots of Animal Jokes for Kids to the beach , in the car, on vacation, to camp, and everywhere else you and your backpack go. And its high fun factor at a great low price makes this a go-to gift from parents and grandparents that will have kids busting a gut without breaking the bank. What do you call a sleeping bull? A bull-dozer. Lots of Animal Jokes for Kids Is a popular joke book for kids ages 6 to 10 Features a collection of over 250 animal related knock-knock jokes, Q&A jokes, tongue twisters, and more Is offered at a low price point, making it the perfect gift for birthdays and holidays Is a perfect boredom buster for summer vacation and rainy days Provides kids with hours of clean and hilarious entertainment ...Show more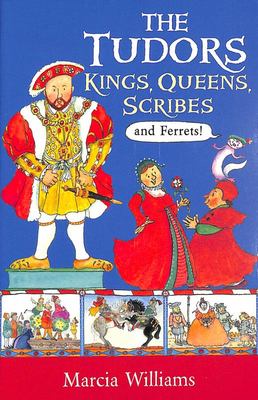 $14.99
AUD
Category: Non-Fiction
Hear all about the Tudors from the great scribe Arthur Inkbott - history like it's never been told before! Join Marcia Williams on a journey through Tudor times with Arthur Inkblott, Queen Elizbeth I's favourite scribe and his pet ferret, Smudge. Meet Henry VIII and his six wives, fight the Spanish Ar mada, see Shakespeare's plays performed for the very first time and sail around the world with Christopher Columbus! Packed with jokes, comic illustrations and fascinating facts, this hugely entertaining fictional biography will make you look at the Tudors in a whole new light! ...Show more
The Diary of a Young Girl (Penguin Black Classics)
by Anne Frank; Mirjam Pressler (Editor); Otto Frank (Editor); Elie Wiesel (Introduction by); Susan Massotty (Translator)
$19.99
AUD
Category: Non-Fiction
Discovered in the attic in which she spent the last years of her life, Anne Frank's remarkable diary has since become a world classic--a powerful reminder of the horrors of war and an eloquent testament to the human spirit.  In 1942, with Nazis occupying Holland, a thirteen-year-old Jewish girl and her family fled their home in Amsterdam and went into hiding. For the next two years, until their whereabouts were betrayed to the Gestapo, they and another family lived cloistered in the "Secret Annex" of an old office building. Cut off from the outside world, they faced hunger, boredom, the constant cruelties of living in confined quarters, and the ever-present threat of discovery and death. In her diary Anne Frank recorded vivid impressions of her experiences during this period. By turns thoughtful, moving, and amusing, her account offers a fascinating commentary on human courage and frailty and a compelling self-portrait of a sensitive and spirited young woman whose promise was tragically cut short. Praise for The Diary of a Young Girl "A truly remarkable book."--The New York Times "One of the most moving personal documents to come out of World War II."--The Philadelphia Inquirer "There may be no better way to commemorate the fiftieth anniversary of the end of World War II than to reread The Diary of a Young Girl, a testament to an indestructible nobility of spirit in the face of pure evil."--Chicago Tribune "The single most compelling personal account of the Holocaust . . . remains astonishing and excruciating."--The New York Times Book Review "How brilliantly Anne Frank captures the self-conscious alienation and naïve self-absorption of adolescence."--Newsday ...Show more
$30.00
AUD
Category: Non-Fiction
Australia has some seriously ace men who have broken new ground, stood up for what they believed in, achieved incredible things and defied stereotypes. You?ll find some of those men inside the pages of this book - from astronaut Andy Thomas to YouTube maths teacher Eddie Woo, sportsman Johnathan Thursto n and dancer David McAllister. Whether they end up being role models for girls or boys, it doesn?t matter, because they?re ace regardless!Brought to life by colourful illustrations from Australian male artists, High Five to the Boysis an uplifting and illuminating read for all ages.Royalties from sales of this book go to The Smith Family. ...Show more
Where Did I Come From?
by Peter Mayle; Arthur Robbins (Illustrator); Paul Walter (Designed by)
$16.99
AUD
Category: Non-Fiction
This bestselling classic explains the facts of life to young children in an age-appropriate and straightforward manner, accompanied by lively illustrations.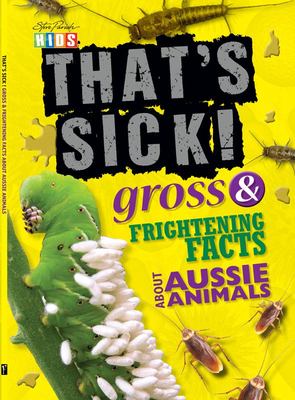 $9.95
AUD
Category: Non-Fiction
Have you ever heard of whale-vomit perfume? No? What about snot-cover ed sleeping bags? This book is only for the brave at heart! Your stomach will churn as you yell 'That's Sick!' with each vomit -inducing fact about Aussie animals. Features: Freak y and fascinating facts about each animal Vibrant and engaging layout Glossary with definitions of challenging words About this series: Fans of the highly success ful That's Gross! Weird & Disgusting Aussie Animals book will find much more to squirm at with squeamish delight in this new stomach-churning series written by Stella Tarakson. Featuring everything from offensive odours to prehistoric puke, these feral facts are not for the faint-hearted! Combining natural history, science and a sense of humour, these books are sure to keep kids entertained while the y learn. ...Show more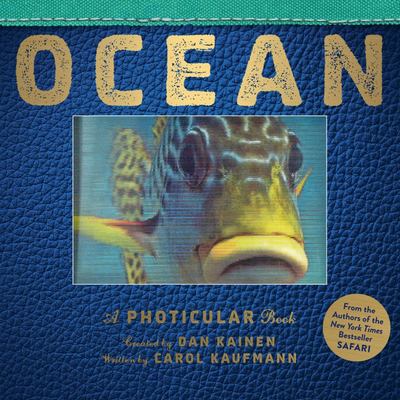 Ocean : A Photicular Book
by Dan Kainen (Created by); Carol Kaufmann (Text by, As told to)
$49.99
AUD
Category: Non-Fiction
A New York Times bestseller, Ocean is like being on a dive. Using Photicular technology, each image is like a 3-D movie on the page, delivering a rich, fluid visual experience. Open the book, and the reader is swept into the magic of an underwater world, face-to-face with a floating Yellow-Banded Sweet lips; with a glow-in-the-dark Deep-Sea Anglerfish; with a Sea Horse swaying in balletic motion; with a Sand Tiger Shark gliding along the ocean floor, its gaze haunting, its hook-toothed mouth gulping open and closed. The text by Carol Kaufmann enchants with its descriptions of coral reefs; a journey on Alvin, the 17-ton submersible; and a meditation on our oceans. Then, for each creature, she writes a lively and informative essay, along with vital statistics--size, habitat, range, diet, and more. The Photicular process uses an innovative lenticular technology, sliding lenses, and original four-color video imagery. The result is like a movie in your hands--the dance of life in a book.   ...Show more