$39.99
AUD
Category: Environment
See the world. Then make it better. 'I am 93. I've had an extraordinary life. It's only now that I appreciate how extraordinary. As a young man, I felt I was out there in the wild, experiencing the untouched natural world - but it was an illusion. The tragedy of our time has been happening all around us , barely noticeable from day to day - the loss of our planet's wild places, its biodiversity. I have been witness to this decline. A Life on Our Planet is my witness statement, and my vision for the future. It is the story of how we came to make this, our greatest mistake - and how, if we act now, we can yet put it right. We have one final chance to create the perfect home for ourselves and restore the wonderful world we inherited.' All we need is the will do so.   ...Show more
$34.99
AUD
Category: Environment
What we can do when there's no planet B. Based on the hit ABC series - don't leave earth without it Most Australians accept that climate change is real, but many don't know what to do about it and feel powerless to make a difference. In Fight for Planet A, the book of the ABC series of the same name, Cr aig Reucassel shows that it isn't as scary as we think, and we can make a difference to help protect the world for future generations. The Chaser comedian and presenter of War on Waste sets out solutions and practical day-to-day changes we can make to reduce our carbon footprint, as well changes our governments need to make without further delay. Find out: - Why 'avoid, renew, reduce and offset' should be the new Insta mantra - Why solar and a thing called Green Power can cut your carbon footprint, even if underfloor heating and hydroponics are your thing - How the government's substantial investment in discussion papers means we lag behind most of the world when it comes to low-emission cars - How electric cars have more grunt than your average muscle car - Why Australians pay coal mining companies more than $1 billion a year 'to help with their diesel bills' - How long we could power our homes on the emissions generated by our favourite cuts of beef. Featuring a few shocking statistics to make you sit up and take notice, plus many more pro-active tips and strategies for everyday people who want to make a difference, A Fight for Planet A is for anyone who has no Planet B - which is most of us. ...Show more
$19.99
AUD
Category: Environment
Extinction Rebellion are inspiring a whole generation to take action on climate breakdown. Now you can become part of the movement - and together, we can make history. It's time. This is our last chance to do anything about the global climate and ecological emergency. Our last chance to save the world a s we know it. Now or never, we need to be radical. We need to rise up. And we need to rebel. Extinction Rebellion is a global activist movement of ordinary people, demanding action from Governments. This is a book of truth and action. It has facts to arm you, stories to empower you, pages to fill in and pages to rip out, alongside instructions on how to rebel - from organising a roadblock to facing arrest. By the time you finish this book you will have become an Extinction Rebellion activist. Act now before it's too late. ...Show more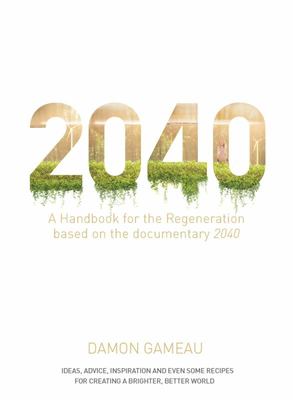 $34.99
AUD
Category: Environment
'You never change things by fighting the existing reality. To change something, build a new model that makes the existing model obsolete.' Buckminster Fuller Like most of us, Damon Gameau has spent most of his adult years overwhelmed into inaction by the problem of climate change and its devastating ef fects on the planet. But when Damon became a father, he knew he couldn't continue to look away. So he decided to do what he does best, and tell a story. And the story became an imagining of what the world could look like in 2040, if we all decided to start doing things differently, right now. The result is the era-defining documentary 2040 - a meticulously researched plea for the adoption of community-building, energy-generating, forest-renewing, ocean-replenishing measures that science tells us will reset our planet's health, drive our economies and improve lives across the globe. 2040: A Household Handbook for the Regeneration shows us how we can stitch this magnificent vision into everyday life by engaging in activities such as cooking, shopping, gardening, sharing, working and teaching our kids. It shows us that climate change is a practical problem that can be tackled by each of us, one small step at a time, and that we can make a genuine difference - if we know what to do. Brimming with practical wisdom and even 50 delicious recipes, 2040: A Household Handbook for the Regeneration empowers you to become the change you want to see in the world. ...Show more
$29.99
AUD
Category: Environment
Australians are witnessing an unprecedented government response to crisis-swift decisive action to avert catastrophe. And the advice of scientists has informed every step of the way. But for decades the advice of scientists on the impending catastrophe that climate change will bring has been ignored, di smissed and even ridiculed. Renowned climate scientist Tim Flannery takes aim at those in government and in the fossil fuel industries for their inaction and lies in response to calls to address the very real and immediate threats posed by climate change. Threats that are now upon us, as the 2019/20 Australian bushfires and floods have shown. Flannery sees 2020 as a turning point. He explores the measures at our disposal to reduce CO2 emissions. He looks at the ways carbon can be drawn out of the atmosphere and safely stored to stabilise atmospheric carbon levels. And he demands a new approach that puts tackling climate change in the hands of the scientists who can lead the way. The Climate Cure is an action plan for survival, a call for government policies that, like its COVID-19 response, rise to the very real climate challenges we face. There is reason for optimism-if we act now. ...Show more
$19.99
AUD
Category: Environment
#1 New York Times and internationally bestselling author Naomi Klein makes the case for a Green New Deal in this "keenly argued, well-researched, and impassioned" manifesto (The Washington Post).   An instant bestseller, On Fire shows Klein at her most prophetic and philosophical, investigating the clim ate crisis not only as a profound political challenge but also as a spiritual and imaginative one. Delving into topics ranging from the clash between ecological time and our culture of "perpetual now," to the soaring history of humans changing and evolving rapidly in the face of grave threats, to rising white supremacy and fortressed borders as a form of "climate barbarism," this is a rousing call to action for a planet on the brink.   An expansive, far-ranging exploration that sees the battle for a greener world as indistinguishable from the fight for our lives, On Fire captures the burning urgency of the climate crisis, as well as the fiery energy of a rising political movement demanding a catalytic Green New Deal.   "Naomi Klein's work has always moved and guided me. She is the great chronicler of our age of climate emergency, an inspirer of generations." --Greta Thunberg, climate activist   If I were a rich man, I'd buy 245 million copies of Naomi Klein's 'On Fire' and hand-deliver them to every eligible voter in America...Klein is a skilled writer. --Jeff Goodell, The New York Times ...Show more
$32.99
AUD
Category: Environment
An inspiring and practical journey to quitting plastics. Kate Nelson has been disposable-plastic free for a decade. She started small- stopping her use of plastic bags and water bottles, refusing straws and carrying a reusable cup for takeaway coffee. But unhappy with how much plastic she still handled in her day-to-day life, she knew she had to do more. It took years, but Kate has developed effective strategies that others can easily adopt. I Quit Plastics is an inspiring and practical guide to reducing your use of plastics, packed with information, 'how-to's and tips to help you cook, clean, shop, wear and live plastic-free. Kate shows how to reduce your waste and live more simply and sustainably, no matter where you're starting from. With over 60 recipes covering nutrition, bodycare, hygiene and cleaning Kate Nelson provides the tools you need to make small personal changes that have lasting global impact. "I'm so excited that a book like this one has finally landed on our shelves! Since reading this amazing piece of writing, I've discovered many new ways to minimise my carbon footprint. The Plastic Free Mermaid is educating all of us on alternative ways to live that favour our health, happiness, land & oceans. I can't recommend this book highly enough." - Elyse Knowles, author of From Me to You- Living Life with Positivity, Passion and Purpose. ...Show more
$34.99
AUD
Category: Environment
You know about MI5. You know about MI6. Now uncover the story behind Britain's most secretive intelligence agency in the first-ever authorised history of GCHQ. Coming October 2020.  
Quitting Plastic
by Clara Williams Roldan; Louise Williams (As told to)
$19.99
AUD
Category: Environment | Reading Level: 4 non fiction
How to reduce plastic in your everyday life, starting with changes that are small and easy to make, and working up to bigger changes to your daily routine.
$32.99
AUD
Category: Environment
The inside story of how a network of influential climate sceptics, politicians and business leaders fought to control Australia's response to the climate crisis. As the climate crisis threatens more extreme bushfire seasons, droughts and floods, many Australians are demanding their leaders answer the qu estion: 'Why didn't you do something?' The Carbon Club reveals the truth behind Australia's two decades of climate inaction. It's the story of how a loose confederation of influential climate-science sceptics, politicians and business leaders sought to control Australia's response to the climate crisis. They shared a fear that dealing with climate change would undermine the nation's wealth, jobs and competitive advantage - and the power of the carbon club. Central to their strategy was an international campaign to undermine climate science and the urgency of the climate crisis. The more the climate science was questioned, the more politicians lost the imperative to act. The sustained success of the carbon club over two decades explains why Australian governments failed to deal with the challenge of climate change. But at what cost to us and the next generation? One of Australia's most respected investigative journalists, Marian Wilkinson has tracked the rise and rise of Australia's carbon club in brilliant detail, with extraordinary access to key players on all sides. The result is a book that is both essential and disturbing reading.   ...Show more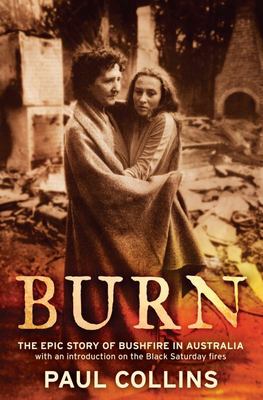 $42.95
AUD
Category: Environment
With the start of every bushfire season and the first threatening hints of burning eucalypt in the air, we are reminded, no matter where we live, that bushfire is an inescapable reality in Australia. In Burn, Paul Collins tells the epic story of bushifire in Australia, drawing on accounts of the most de vastating conflagrations in Australia's European history - from the 1851 Black Thursday fire (which burnt out one-quarter of Victoria), to the 1939 Black Friday fires (which took many lives and destroyed thousands of hectares in Victoria, New South Wales, South Australia and Tasmania), the Canberra inferno of 2003, and Black Saturday of February 2009. Frightening, compelling, vivid, and provocative, Burn reveals the stories of heroism, stupidity, political incompetence, and environmental vandalism. This is the grand narrative of bushfire in Australia, the most fire-prone land on Earth. ...Show more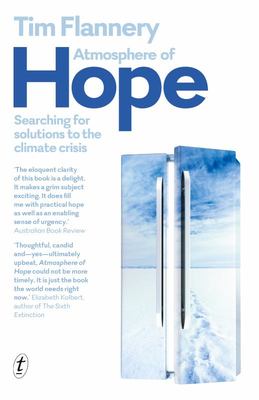 $24.99
AUD
Category: Environment
"A decade after his internationally bestselling The Weather Makers, acclaimed scientist and author Tim Flannery argues that Earth's climate system is approaching a crisis. Catastrophe is not inevitable, but time is fast running out. Atmosphere of Hope provides both a snapshot of the trouble we are in an d an up-to-the-minute analysis of some of the new possibilities for mitigating climate change that are emerging now. From atmospheric carbon capture through extensive seaweed farming, CO2 snow production in Antarctica and the manufacture of carbon-rich biochar to reflecting the sun's rays by releasing sulphur into the atmosphere and painting landscapes and cities white, Flannery outlines an arrayof innovative technologies that give cause for hope." ...Show more