$29.99
AUD
Category: Culture and Ideas
A response to the devastating 2019-20 bushfires, Animals Make Us Human both celebrates Australia's unique wildlife and highlights its vulnerability. Through words and images, writers, photographers and researchers reflect on their connection with animals and nature. They share moments of wonder and reve lation from encounters in the natural world- seeing a wild platypus at play, an echidna dawdling across a bush track, or the inexplicable leap of a thresher shark; watching bats take flight at dusk, or birds making a home in the backyard; or following possums, gliders and owls into the dark. Hopeful, uplifting and deeply moving, this collection is also an urgent call to action, a powerful reminder that we only have one world in which to coexist and thrive with our fellow creatures. By highlighting the beauty and fragility of our unique fauna, Australia's favourite writers, renowned researchers and acclaimed photographers encourage readers to consider it in a new light. Featuring- Barbara Allen, Robbie Arnott, Tony Birch, James Bradley, Mark Brandi, Geraldine Brooks, Anne Buist, Melanie Cheng, Claire G. Coleman, Ceridwen Dovey, Chris Flynn, Nayuka Gorrie, Dan Harley, Ashley Hay, Toni Jordan, Leah Kaminsky, Paul Kelly, Meg Keneally, Tom Keneally, Cate Kennedy, David Lindenmayer, Ella Loeffler, Maia Loeffler, Jen Martin, Angela Meyer, Sonia Orchard, Favel Parrett, Marissa Parrott, Bruce Pascoe, Jack Pascoe, Sue Pillans, Nick Porch, Holly Ringland, Euan Ritchie, Antoinette Roe, Kirli Saunders, Graeme Simsion, Tracy Sorensen, Shaun Tan, Lucy Treloar, Karen Viggers, Emma Viskic, John Woinarski, Clare Wright. And photographers- Tim Bawden, Kristian Bell, Rohan Bilney, Justin Bruhn, Andrew Buckle, Matt Clancy, Amy Coetsee, Craig Coverdale, Angus Emmott, Terry Houston, Jayne Jenkins, Vivien Jones, Sue Liu, Michael Livingston, Caleb McElrea, Nick Monaghan, Richard Pillans, Gillian Rayment, Linda Rogan, David Maurice Smith, Steve Smith, Colin Southwell, Georgina Steytler, Wayne Suffield, Heather Sutton, Peter Taylor, William Terry, Patrick Tomkins, Belinda Wilson, Matt Wright. ...Show more
$39.99
AUD
Category: Culture and Ideas
Channel Kindness is a collection of fifty-one stories of kindness, bravery, and resilience from young people all over the world collected by the Born This Way Foundation and introduced by Lady Gaga. For Lady Gaga, kindness is the driving force behind everything she says and does. The quiet power of kind ness can change the way we view one another, our communities, and even ourselves. She embodies this mission, and through her work, brings more kindness into our world every single day. Lady Gaga has always believed in the importance of being yourself, being kind to yourself and others, no matter who they are or where they come from. With that sentiment in mind, she and her mother, Cynthia Germanotta, founded Born This Way Foundation, a nonprofit organization dedicated to making the world a kinder and braver place. Through the years, they've collected stories of kindness, bravery, and resilience from young people all over the world, proving that kindness truly is the universal language. And now, we invite you to read these stories and follow along as each and every young author finds their voice, just as Lady Gaga has found hers.Within these pages, you'll meet young changemakers who found their inner strength, who prevailed in the face of bullies, who started their own social movements, who decided to break through the mental health stigma and share how they felt, who created safe spaces for LGBTQ+ youth, and who have embraced kindness with every fiber of their being by helping others without the expectation of anything in return.Individually and collectively, the stories collected here prove that kindness not only saves lives but builds community. Kindness is inclusion, it is pride, it is empathy, it is compassion, it is self-respect and it is the guiding light to love. Kindness is always transformational, and its never-ending ripples result in even more kind acts that can change our lives, our communities, and our world. ...Show more
To My Country
by Ben Lawson; Bruce Whatley (Illustrator)
$29.99
AUD
Category: Culture and Ideas
On January 10, Ben touched the hearts of Australians with the reading of his poem To My Country in response to the Australian bushfires. This gorgeous 4 colour book combines Ben's heartfelt words with stunning illustrations by Bruce Whatley.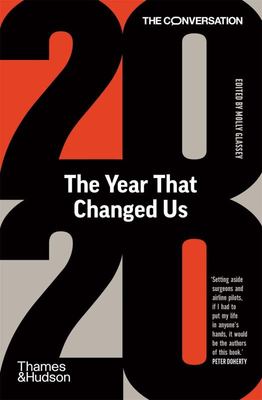 $21.99
AUD
Category: Culture and Ideas
In January 2020, Australia went from battling one of its worst-ever bushfire seasons to preparing for COVID-19 to hit its shores. What ensued was crisis: a pandemic, political upheaval, an international human rights movement, global recession and localised emergencies dwarfed by a world spinning on an a xis of turmoil.These essays from leading thinkers and contributors to The Conversation examine what will be one of the most significant and punishing years in the 21st century. 2020: The Year That Changed Us explores the lessons that cannot be overlooked from this remarkable year, and the most intelligent way forward.Contributors include:Michelle GrattanPeter MartinRaina MacIntyreJoëlle GergisPeter GresteThalia AnthonyShino KonishiFiona Stanley ...Show more
$19.99
AUD
Category: Culture and Ideas | Series: First Knowledges Ser.
'Let this series begin the discussion.' - Bruce Pascoe 'An act of intellectual reconciliation.' - Lynette Russell.  Songlines are an archive for powerful knowledges that ensured Australia's many Indigenous cultures flourished for over 60,000 years. Much more than a navigational path in the cartographic sense, these vast and robust stores of information are encoded through song, story, dance, art and ceremony, rather than simply recorded in writing. Weaving deeply personal storytelling with extensive research on mnemonics, Songlines offers unique insights into Indigenous traditional knowledges, how they apply today and how they could help all peoples thrive into the future. This book invites readers to understand a remarkable way for storing knowledge in memory by adapting song, art, and most importantly, Country, into their lives.  About the series:The First Knowedges books are co-authored by Indigenous and non-Indigenous writers; the series is edited by Margo Neale, senior Indigenous curator at the National Museum of Australia.  ...Show more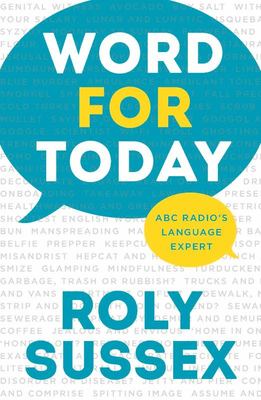 $24.99
AUD
Category: Culture and Ideas
Did you know that the word salary comes from the Latin salfor 'salt', since part of the payment to Roman soldiers was in salt? That braces and suspenders used to refer to different items of clothing? Or that trolls have migrated from fairytales to online discussion forums? The English language is curren tly going through a period of tremendous ferment, growth and expansion. Old 'rules' are being challenged, or weakened. New ones are emerging. And mistakes and misuses are popping up with all the speed that the internet can provide. For over two decades, linguist Roly Sussex has documented the nature and evolution of the English Language on his popular weekly ABC Radio program 'Word for Today'. For the first time, the best of these reflections on word origins, neologisms and misuses are collected in this witty and insightful book. With Word for Today, you'll always have a word for tomorrow. ...Show more
$29.99
AUD
Category: Culture and Ideas
Writers, scientists, historians, journalists and commentators consider subjects as broad as culture and the arts, working as a doctor, travel, domestic violence, security, immigration, the death of a loved one, geopolitics, distance and zoom to ensure we never forget the experience of this pile-on of a year. Including original pieces from Lenore Taylor, Nyadol Nuon, Christos Tsiolkas, Melissa Lucashenko, Billy Griffiths, Jess Hill, Kim Scott, Brenda Walker, Jane Rawson, Omar Sakr, Richard McGregor, Jennifer Mills, Gabrielle Chan, John Birmingham, Tim Flannery, Rebecca Giggs, Kate Cole-Adams, George Megalogenis, James Bradley, Alison Croggan, Melanie Cheng, Kirsten Tranter, Tom Griffiths, Joelle Gergis and Delia Falconer.   ...Show more
$24.99
AUD
Category: Culture and Ideas
In a tumultuous year, Australia and New Zealand have never been closer, as we move towards a shared travel zone. But why, despite being so close, do we seem to know so little about each other? And is there such a thing as national character? In this wise and illuminating essay, Laura Tingle looks at lea dership, economics, history and more. Competitiveness has marked our relationship from its earliest days. In the past half-century, both countries have been compelled to remake themselves amid shifting economic fortunes. New Zealand has been held up as a model for everything from tax reform to the way we conduct our politics. What have been the outcomes? How do they compare to ours? Tingle considers everything from Morrison and Ardern as national leaders to the different ways each country has dealt with its colonial legacy. What could we learn from New Zealand? And it from us? This is a perceptive, often amusing introduction to a country just like ours in some ways, but quite different in others.   ...Show more
$34.99
AUD
Category: Culture and Ideas
From 'the most powerful book critic in the English-speaking world' (Vanity Fair) comes an inspiring and beautifully illustrated selection of the life-changing books that none of us should miss 'Why do we love books so much?' For legendary literary critic Michiko Kakutani, books have always been an esca pe and a sanctuary, the characters of some novels feeling so real to her childhood self that she worried they might leap out of the pages at night if she left the book cover open. In Ex Libris, she offers a personal selection of over 100 works of fiction, nonfiction and poetry, with passionate essays on why each has had a profound effect on her life. From Homer's The Odyssey to The Writings and Speeches of Martin Luther King, Jr. and Margaret Atwood's The Handmaid's Tale to Elena Ferrante's Neapolitan Novels, Ex Libris covers a rich and vast range of classics, old and new, that will help build a well-rounded reader and citizen of the world. With gorgeous illustrations by lettering artist Dana Tanamachi that evoke vintage bookplates leafed between Kakutani's inspiring essays, Ex Libris points us to our next great read - and proves an unmissable reminder of why we fell in love with reading in the first place. ...Show more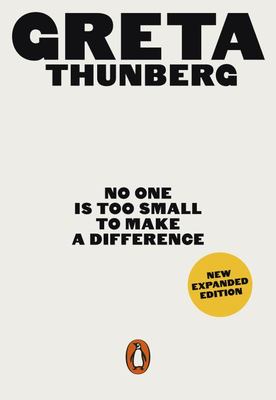 $7.99
AUD
Category: Culture and Ideas
'Everything needs to change. And it has to start today.' In August 2018 a fifteen-year-old Swedish girl, Greta Thunberg, decided not to go to school one day. Her actions ended up sparking a global movement for action against the climate crisis, inspiring millions of pupils to go on strike for our plane t, forcing governments to listen, and earning her a Nobel Peace Prize nomination. This book brings you Greta in her own words. Collecting her speeches that have made history across Europe, from the UN to mass street protests, No One Is Too Small to Make A Difference is a rallying cry for why we must all wake up and fight to protect the living planet, no matter how powerless we feel. Our future depends upon it. With new speeches from Vienna, Paris, New York and Montreal. ...Show more
$17.99
AUD
Category: Culture and Ideas | Series: I know this to be true
One of America's most influential political activists on issues of equality and gender, Gloria Steinem answers fundamental questions about leadership and what really matters to her.
$25.95
AUD
Category: Culture and Ideas | Series: Essay Bks.
Our societies frequently proclaim their enormous esteem for culture. Music, film, literature and the visual arts enjoy high prestige and are viewed by many as getting close to the meaning of life. But what is culture really for?This book proposes that works of culture were all made, in one way or anothe r, with the idea of improving the way we live. The book connects a range of cultural masterpieces with our own pains and dilemmas around love, work and society, and invites us to see culture as a resource with which to address the complex agonies of being human. It provides us with enduring keys to unlocking culture as a way of transforming our lives. ...Show more